Reservations
Book Now
If you'd rather call directly, our representatives will be happy to assist you.
800-643-2386 (800-N IDA FUN)
"

Rick is one of the most energetic and dedicated managers that we have ever come across in 77 years. He is the best.

"


Carl and Marjorie B.,

Yakima, WA
More testimonials »
Rooms & Reservations
Room Types
Completely renovated in 2009, the Wallace Inn features fifty-nine well-appointed, spacious rooms and four luxurious suites. Our upscale furnishings, include king and queen beds, in-room refrigerators and WiFi throughout the Inn.
All rooms have mountain views, 25-inch cable TVs, hair dryers, irons and ironing boards, independently controlled heating and air conditioning and in-room coffee. Two ADA-rated handicapped rooms are available. The Wallace Inn is 100% smoke free.
Sign up for our Specials & Promotions Club and be the first to receive our exclusive offers!
Sign up for our Specials & Promotions Club and be the first to receive our exclusive offers!
Special Promotions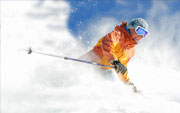 Powder Cocktail
The freshest, deepest powder!
1 Night deluxe room, double occupancy
2 Adult lift tickets to Lookout Pass Ski Resort
Want some no frills powder carving on white-washed slopes of deep snow?
The Powder Cocktail package is it. Experience the renowned Lookout Pass champagne powder with easy I-90 access and friendly lifties. After closing the slopes, hit the Wallace Inn's hot tub and indoor pool. Relax and rejuvenate.
Sunday-Thursday. Regular price $184. Special package rate $154.

Friday/Saturday/Holidays. Regular price $222. Special package rate $192.
Upgrades to a king or double queen bedded room are $20.00 excluding costs for extra persons/ski tickets needed per room.
Read More »
Wallace Inn News
I'm going to admit right now that I'd never heard of the Route of the Hiawatha before planning a trip to north Idaho. So if you've never heard about it either, don't feel bad. But I suspect that if you're much of a cyclist, you HAVE heard about this "rails to trails"…
Read Full Story »
Get an inside look at Idaho's Trail of the Coeur d'Alenes, a stunning 72-mile pathway that has spurred economic revitalization in America's silver heartland.
Read Full Story »