Reservations
Book Now
If you'd rather call directly, our representatives will be happy to assist you.
800-643-2386 (800-N IDA FUN)
"

Housekeeping staff is friendly and efficient…our 3rd stay and we will be back!

"


Rose C.,

Spokane, WA
More testimonials »
Rooms & Reservations
Room Types
Completely renovated in 2009, the Wallace Inn features fifty-nine well-appointed, spacious rooms and four luxurious suites. Our upscale furnishings, include king and queen beds, in-room refrigerators and WiFi throughout the Inn.
All rooms have mountain views, 25-inch cable TVs, hair dryers, irons and ironing boards, independently controlled heating and air conditioning and in-room coffee. Two ADA-rated handicapped rooms are available. The Wallace Inn is 100% smoke free.
Sign up for our Specials & Promotions Club and be the first to receive our exclusive offers!
Sign up for our Specials & Promotions Club and be the first to receive our exclusive offers!
Special Promotions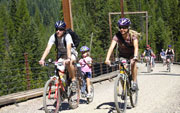 Hiawatha Discovery
1 Night in a deluxe queen room, double occupancy
Route of the Hiawatha trail and shuttle passes for two
Ride the magnificent Route of the Hiawatha - North America's best Rails to Trails, Tunnels & Trestles Experience!
Cruise down the 17 mile Old Milwaukee Road Rail line marveling at the majestic mountain- and valleyscapes while carving through 10 dark tunnels and over 7 sky high trestles.
Bask in clean fresh air, glorious views and high altitude recreation – all easily accessible off Interstate 90.
Return to the Wallace Inn to relax and to regale family and friends with your day's adventures in our soothing hot tub, indoor pool, saunas and comfy queen bedded rooms.
Priced right to make your visit to North Idaho all "downhill."
May 26 to June 28 and September 3 to 23:
Sunday-Thursday. Regular price $179. Special package rate $159.
Friday-Saturday. Regular price $198. Special package rate $179.
June 29 to September 2:
Regular price $219. Special package rate $199.
Reserve space on the Wallace Inn shuttle to/from the Route of the Hiawatha 72 hours in advance of your ride. Round trip $55/ticket.
To book please call 1-800-643-2386.
Upgrades and extra nights available at a discounted rate. Package rates not available for walk-ins. Rates may increase during festival or holiday periods.
Read More »
Wallace Inn News
I'm going to admit right now that I'd never heard of the Route of the Hiawatha before planning a trip to north Idaho. So if you've never heard about it either, don't feel bad. But I suspect that if you're much of a cyclist, you HAVE heard about this "rails to trails"…
Read Full Story »
Get an inside look at Idaho's Trail of the Coeur d'Alenes, a stunning 72-mile pathway that has spurred economic revitalization in America's silver heartland.
Read Full Story »