Reservations
Book Now
If you'd rather call directly, our representatives will be happy to assist you.
800-643-2386 (800-N IDA FUN)
"

Rick is one of the most energetic and dedicated managers that we have ever come across in 77 years. He is the best.

"


Carl and Marjorie B.,

Yakima, WA
More testimonials »
Contact Us & Directions
Address

100 Front Street

P.O. Box 867

Wallace, Idaho 83873

Contact

F: 208.753.0981
P: 208.752.1252
1-800-N-IDA-FUN
Directions
The Wallace Inn is conveniently located off Interstate 90 at Exits 61 and 62. The Inn is 81 miles east of Spokane, Washington, the Spokane International Airport and daily Amtrak service. Coeur d'Alene, Idaho is only 48 miles west on I-90. Missoula, Montana is 117 miles east and also offers airport access to Wallace. Rental car facilities are available at all nearby destinations. Airport shuttles may also be arranged.
Traveling distances to/from Wallace, Idaho:
Parking Accoommodations
Ample outdoor parking is available for vehicles, ATV's and snowmobile trailers. 24-hour security is provided.
Special Promotions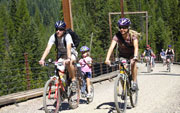 Hiawatha Discovery
1 Night in a deluxe queen room, double occupancy
Route of the Hiawatha trail and shuttle passes for two
15% Breakfast coupon for our Trailside Cafe
Ride the magnificent Route of the Hiawatha - North America's best Rails to Trails, Tunnels & Trestles Experience!
Cruise down the 17 mile Old Milwaukee Road Rail line marveling at the majestic mountain- and valleyscapes while carving through 10 dark tunnels and over 7 sky high trestles.
Bask in clean fresh air, glorious views and high altitude recreation – all easily accessible off Interstate 90.
Return to the Wallace Inn to relax and to regale family and friends with your day's adventures in our soothing hot tub, indoor pool, saunas and comfy queen bedded rooms.
Priced right to make your visit to North Idaho all "downhill."
May 26 to June 30 and September 5 to 30:
Sunday-Thursday. Regular price $188. Special package rate $148.
Friday-Saturday. Regular price $208. Special package rate $168.
July 1 to September 4:
Regular price $208. Special package rate $168.
Reserve space on the Wallace Inn shuttle to the Hiawatha East Gate. Round trip $45/ticket.
To book please call 1-800-643-2386.
Upgrades and extra nights available at a discounted rate. Package rates not available for walk-ins. Rates may increase during festival or holiday periods.
Read More »
Wallace Inn News
"Idaho? Why Idaho?" This is the reaction of my bewildered New Yorker friend when I tell her where I'm going for my first road trip ever. "Because I don't know anything about it!" I tell her excitedly. Well, besides potatoes. I've traveled the world for 6 years…
Read Full Story »
Exploration. Adventure. Culture. Those are the things I personally look for when skiing & snowboarding. Growing up a Midwest kid, I've always looked for mountains and ski-towns that were different and untainted… Special gems that are less corporate and more pure. The town of Wallace…
Read Full Story »