Reservations
Book Now
If you'd rather call directly, our representatives will be happy to assist you.
800-643-2386 (800-N IDA FUN)
Contact Us & Directions
Address

100 Front Street

P.O. Box 867

Wallace, Idaho 83873

Contact

F: 208.753.0981
P: 208.752.1252
1-800-N-IDA-FUN
Directions
The Wallace Inn is conveniently located off Interstate 90 at Exits 61 and 62. The Inn is 81 miles east of Spokane, Washington, the Spokane International Airport and daily Amtrak service. Coeur d'Alene, Idaho is only 48 miles west on I-90. Missoula, Montana is 117 miles east and also offers airport access to Wallace. Rental car facilities are available at all nearby destinations. Airport shuttles may also be arranged.
Traveling distances to/from Wallace, Idaho:
Parking Accoommodations
Ample outdoor parking is available for vehicles, ATV's and snowmobile trailers. 24-hour security is provided.
Special Promotions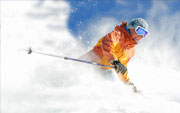 Powder Cocktail
The freshest, deepest powder!
1 Night deluxe room, double occupancy
2 Adult lift tickets to Lookout Pass Ski Resort
Want some no frills powder carving on white-washed slopes of deep snow? The Powder Cocktail package is it. Experience the renowned Lookout Pass champagne powder with easy I-90 access and friendly lifties. After closing the slopes, hit the Wallace Inn's hot tub and indoor pool. Relax and rejuvenate.
Sunday-Thursday. Regular price $149. Special package rate $119.

Friday-Saturday. Regular price $189. Special package rate $149.
Upgrades and extra nights available at a discounted rate. Extra person in room with lift ticket - add $59. Holiday/festival periods - add $30.
Read More »
Wallace Inn News
The Little Town In Idaho That Might Just Be The Most Unique Town In The World Of all the towns in Idaho, it's hard to choose just one to be the "most unique" — they're all pretty special! But one charming town in the panhandle is so singular that it's been recognized…
Read Full Story »
Just a short drive from the more well-known town of Wallace in North Idaho is a town that is only known by few. The ruins of this abandoned town are impressive to say the least. The buildings still stand tall and it's not hard to imagine the town bustling with people. However, the town's…
Read Full Story »