"

From the moment we walked in, the lady at the front desk made us feel like we were company in someone's home.

"


Jim and Mary M.,

Scotts Bluff, NE
More testimonials »
Wallace, Idaho & the Silver Valley
Wallace, Idaho is a gem of a Wild West mining town perched in the legendary Silver Valley of North Idaho. Conveniently located just off Interstate 90 in the Panhandle of North Idaho, between Washington and Montana, Wallace boasts breathtaking mountain views, a beautifully-preserved downtown of Queen Anne buildings, and a homespun friendliness that captivates today's visitors - just as it always has throughout Wallace's spirited history on the frontier of the American West.
No wonder that visitors -- from the town's founder, Colonel W. R. Wallace, to Teddy Roosevelt in 1903, to Hollywood moguls in the 1970's and 1980's looking to capture the unique imagery of the American West -- have found their way to the unique outpost of Wallace, representing something indigenous, special and even grand about small-town America. Wallace truly is what America once was.
With its recent evolution from bustling mining town to recreation and tourism center for the Inland Empire, Wallace and the Wallace Inn beckon to serve as your base camp for year-round Northwestern adventures in recreation and in unearthing the area's remarkable history.
Learn More about Historic Wallace, Idaho.
Special Promotions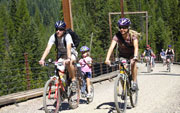 Hiawatha Discovery
1 Night in a deluxe queen room, double occupancy
Route of the Hiawatha trail and shuttle passes for two
Ride the magnificent Route of the Hiawatha - North America's best Rails to Trails, Tunnels & Trestles Experience!
Cruise down the 16 mile Old Milwaukee Road Rail line marveling at the majestic mountain- and valleyscapes while carving through 10 dark tunnels and over 7 sky high trestles.
Bask in clean fresh air, glorious views and high altitude recreation – all easily accessible off Interstate 90.
Return to the Wallace Inn to relax and to regale family and friends with your day's adventures in our soothing hot tub, indoor pool, saunas and comfy queen bedded rooms.
Priced right to make your visit to North Idaho all "downhill."
Weekends:
Special package rate $209.
Weekdays:
Special package rate $199.
Reserve space on the Wallace Inn shuttle to/from the Route of the Hiawatha 72 hours in advance of your ride.
To book please call 1-208-752-1252.
Upgrades and extra nights available at a discounted rate. Package rates not available for walk-ins. Rates may increase during festival or holiday periods.
Read More »
Wallace Inn News
Discovering new places that are off the beaten path is our jam. It's 90% of the reason why we do what we do! (10% is for the food, obvi!) As we road tripped around Northern Idaho, we found some real hidden gems – many of which are in and around the small mining town of Wallace! It's…
Read Full Story »
COMMUNITY Passage Into the Panhandle – Part 2 A Tale of Two Towns Gail Newbold | Photos by Kevin Kiernan Mar 15, 2019 Facebook22TwitterLinkedInSMSEmail Part 1 of this article, published in our January/February 2019 issue, focused on Priest Lake, the Roosevelt Grove of Ancient Cedars, Sandpoint,…
Read Full Story »