"

The staff was courteous, accommodating and very knowledgeable. We found the hotel clean and well maintained inside and out.

"


Louise S.,

Yakima, WA
More testimonials »
Trailside Cafe
Bright and airy, the Trailside Cafe welcomes you with family-friendly fare. A farm fresh breakfast starts your day off right. Comfy booths and mountain views complete the picture.
Groups are welcome.
For special occasions, host a semi-private event in Molly's, adjacent to our restaurant.
Open daily.
Monday through Friday: 6:30 to 10:00 a.m.
Saturday and Sunday: 6:30 to 11:00 a.m.
Special Promotions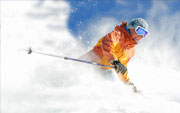 Powder Cocktail
The freshest, deepest powder!
1 Night queen room, double occupancy
2 Adult lift tickets to Lookout Pass Ski Resort
Want some no frills powder carving on white-washed slopes of deep snow?
The Powder Cocktail package is it. Experience the renowned Lookout Pass champagne powder with easy I-90 access and friendly lifties. After closing the slopes, hit the Wallace Inn's hot tub and indoor pool. Relax and rejuvenate.
Before December 23 - Special package rate $156.

Sunday-Thursday - Special package rate $163.

Friday-Saturday - Special package rate $190.

Holidays - Special package rate $212.
Upgrades to a king or double queen bedded room are $20.00 excluding costs for extra persons/ski tickets needed per room.
Read More »
Wallace Inn News
Nowadays people explore Idaho's Panhandle via bike, boat and backpack, ever on the lookout for that hidden treasure of lake, trail or experience. But, in the not-too-distant past, scores prospected the Panhandle for riches buried beneath the earth. Here they discovered such immense treasure the…
Read Full Story »
They still mine silver in the mountains around Wallace, Idaho—but equally rich treasures are above ground too. Wallace is a gateway to trails for every skill level of hiker and biker, while its small-town charm and quirky "live and let live" attitude is a pleasant contrast to bland…
Read Full Story »