Reservations
Book Now
If you'd rather call directly, our representatives will be happy to assist you.
800-643-2386 (800-N IDA FUN)
"

From the moment we walked in, the lady at the front desk made us feel like we were company in someone's home.

"


Jim and Mary M.,

Scotts Bluff, NE
More testimonials »
Swimming and Workout Facilities
Come enjoy a swim in our blue-tiled, indoor pool…or simply relax in the warmth of our jetted spa. Both are framed by floor to ceiling windows for spectacular views of our natural surroundings. For the ultimate in relaxation, try out our dry sauna and our steam room.
Keep your exercise routine going in our fitness room that features updated equipment and a full bathroom facility.
Open 8am to 10pm Daily
Special Promotions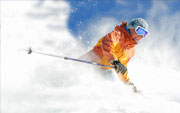 Powder Cocktail
The freshest, deepest powder!
1 Night queen room, double occupancy
2 Adult lift tickets to Lookout Pass Ski Resort
Want some no frills powder carving on white-washed slopes of deep snow?
The Powder Cocktail package is it. Experience the renowned Lookout Pass champagne powder with easy I-90 access and friendly lifties. After closing the slopes, hit the Wallace Inn's hot tub and indoor pool. Relax and rejuvenate.
Sunday-Thursday. Regular price $184. Special package rate $154.

Friday/Saturday/Holidays. Regular price $222. Special package rate $192.
Upgrades to a king or double queen bedded room are $20.00 excluding costs for extra persons/ski tickets needed per room.
Read More »
Wallace Inn News
At Christmastime, This Idaho Town Has The Most Enchanting Main Street In The Country There's something undeniably magical about spending the holiday season in Idaho. It's during this time of year that many of our towns undergo drastic transformations to showcase their Christmas spirit. Not…
Read Full Story »
I'm going to admit right now that I'd never heard of the Route of the Hiawatha before planning a trip to north Idaho. So if you've never heard about it either, don't feel bad. But I suspect that if you're much of a cyclist, you HAVE heard about this "rails to trails"…
Read Full Story »