Reservations
Book Now
If you'd rather call directly, our representatives will be happy to assist you.
800-643-2386 (800-N IDA FUN)
"

The Inn was very comfortable and we were impressed with the value and quality.

"


Guest from Puyallup, WA
More testimonials »
Swimming and Workout Facilities
Come enjoy a swim in our blue-tiled, indoor pool…or simply relax in the warmth of our jetted spa. Both are framed by floor to ceiling windows for spectacular views of our natural surroundings. For the ultimate in relaxation, try out our dry sauna and our steam room.
Keep your exercise routine going in our fitness room that features updated equipment and a full bathroom facility.
Open 8am to 10pm Daily
Special Promotions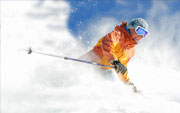 Powder Cocktail
The freshest, deepest powder!
1 Night deluxe room, double occupancy
2 Adult lift tickets to Lookout Pass Ski Resort
1 Craft brew flight from Wallace Brewing Company or North Idaho Mountain Brewery
Want some no frills powder carving on white-washed slopes of deep snow? The Powder Cocktail package is it. Experience the renowned Lookout Pass champagne powder with easy I-90 access and friendly lifties. After closing the slopes, hit the Wallace Inn's hot tub and indoor pool. Relax and rejuvenate.
Shuttle service to Lookout Pass departs the Inn at 8:00 a.m., 1:00 p.m. and 4:30 p.m. Just add $18.00/person to the discounted package price.
Regular price of $196.00. Special package rate of $139.00.
Upgrades, extra guests and extra nights available at a discounted rate. Package prices may vary for holiday and festival periods.
Read More »
Wallace Inn News
Exploration. Adventure. Culture. Those are the things I personally look for when skiing & snowboarding. Growing up a Midwest kid, I've always looked for mountains and ski-towns that were different and untainted… Special gems that are less corporate and more pure. The town of Wallace…
Read Full Story »
Where is the snowiest ski resort in Idaho? Is it Sun Valley? How about Schweitzer? Nope. It's a small spot nestled on the border between Montana and Idaho called Lookout Pass. With nearly 400″ of snow annually, our Idaho road trip wouldn't be complete without releasing our inner powder…
Read Full Story »