Special Promotions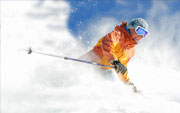 Powder Cocktail
The freshest, deepest powder!
1 Night queen room, double occupancy
2 Adult lift tickets to Lookout Pass Ski Resort
Want some no frills powder carving on white-washed slopes of deep snow?
The Powder Cocktail package is it. Experience the renowned Lookout Pass champagne powder with easy I-90 access and friendly lifties. After closing the slopes, hit the Wallace Inn's hot tub and indoor pool. Relax and rejuvenate.
Before December 23 - Special package rate $156.

Sunday-Thursday - Special package rate $163.

Friday-Saturday - Special package rate $190.

Holidays - Special package rate $212.
Upgrades to a king or double queen bedded room are $20.00 excluding costs for extra persons/ski tickets needed per room.
Read More »
Wallace Inn News
On its surface, Wallace is an unassuming town in the Idaho panhandle. Nestled high in the silver-rich Bitterroot Mountains, you would never know that this historic mining town used to have more than a dozen brothels and was ravaged twice by wildfires. In addition to mine tours and museums, Wallace offers…
Read Full Story »
Wallace on a sunny winter day Exploration. Adventure. Culture. Those are the things I personally look for when skiing & snowboarding. Growing up a Midwest kid, I've always looked for mountains and ski-towns that were different and untainted… Special gems that are less corporate and…
Read Full Story »