"

Great vacation, Warm, friendly atmosphere-home away from home but better!

"


glasshoel,

Yakima, WA
More testimonials »
Meeting Rooms
The Wallace Inn takes pride in our outstanding meeting facilities and group amenities. Our track record of satisfaction by our corporate clients and guests speaks to our single-minded commitment to excellence.
When planning your next conference, seminar, retreat, or social event, look to the Wallace Inn for professionalism, friendly service, exceptional food, and comfortable settings. We provide full banquet and catering services. Our facilities are ample and flexible, to meet your needs from small meetings to large gatherings. Audio-visual support is also available including overhead slide projectors, television, VCR, podiums, and easels.
Gold Room
Our largest conference space, the well-appointed Gold Room, seats up to 100 people in a theater setup, or 50 in a classroom layout. The Gold Room can also be divided to create two rooms that each seat up to 40 people.
Silver Board Room
The Silver Room is the venue of choice for conducting an important meeting, deposition, or negotiation that requires privacy in a professional setting. The board table comfortably seats 10, with room for 10 additional seats around the perimeter of the room.
Molly's
Molly's is a charming, semi-private room that seats groups of up to 40. Molly's is an ideal location for meetings and work-related social gatherings.
O'Rourke's
A comfortable lounge, O'Rourke's may be booked for private events including full meals. O'Rourke's serves a wide variety of domestic and micro brewed beers, regional wines, and cocktails. For more space, O'Rourke's is directly adjacent to Molly's. The lounge is equipped with a television.
Lawn & Pool Area
For an outdoor event, look no further than the lawn and pool area of the Wallace Inn. This area has hosted barbecues, association receptions and family reunions. The natural setting serves as a lovely backdrop to formal or casual events, accommodating up to 100 guests in the fresh mountain air.
Special Promotions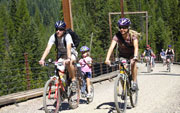 Hiawatha Discovery
1 Night in a deluxe queen room, double occupancy
Route of the Hiawatha trail and shuttle passes for two
Ride the magnificent Route of the Hiawatha - North America's best Rails to Trails, Tunnels & Trestles Experience!
Cruise down the 16 mile Old Milwaukee Road Rail line marveling at the majestic mountain- and valleyscapes while carving through 10 dark tunnels and over 7 sky high trestles.
Bask in clean fresh air, glorious views and high altitude recreation – all easily accessible off Interstate 90.
Return to the Wallace Inn to relax and to regale family and friends with your day's adventures in our soothing hot tub, indoor pool, saunas and comfy queen bedded rooms.
Priced right to make your visit to North Idaho all "downhill."
Weekends:
Special package rate $189.
Weekdays:
Special package rate $179.
Reserve space on the Wallace Inn shuttle to/from the Route of the Hiawatha 72 hours in advance of your ride.
To book please call 1-208-752-1252.
Upgrades and extra nights available at a discounted rate. Package rates not available for walk-ins. Rates may increase during festival or holiday periods.
Read More »
Wallace Inn News
COMMUNITY Passage Into the Panhandle – Part 2 A Tale of Two Towns Gail Newbold | Photos by Kevin Kiernan Mar 15, 2019 Facebook22TwitterLinkedInSMSEmail Part 1 of this article, published in our January/February 2019 issue, focused on Priest Lake, the Roosevelt Grove of Ancient Cedars, Sandpoint,…
Read Full Story »
Visit Idaho Published on Mar 11, 2019 Episode 1: Take your adventure to new heights with a trip through northern Idaho. From the Center of the Universe to the crown jewel of rail to trail experiences and an adventure course that will have you zipping through the trees, there's no slowing down…
Read Full Story »