"

I forgot a personal item… I received said item 3 days later…People like you make everyone have faith in the goodness of people.

"


Gilda M.,

Portland, OR
More testimonials »
The Wallace Inn
About
Nestled in the heart of North Idaho's breathtaking Silver Valley, at the foot of the towering Bitterroot Mountains, the Wallace Inn offers a unique experience for visitors. Come explore all the natural beauty, history, and year-round recreation that abound in the area. Comfortable, well-appointed rooms, friendly, personalized service, and an array of amenities await your arrival. Stay with us and enjoy our indoor pool and spa, steam room, dry sauna, exercise facilities, restaurant, lounge, and much more.
History
Historic Wallace, Idaho is home to a rich and colorful history which has earned the entire downtown a listing on The National Register of Historic Places. Founded in the late 1800s after the discovery of rich deposits of silver and gold, Wallace experienced boomtown growth and two significant fires including the largest U.S. forest fire ever recorded, the "Big Burn" of 1910. The town has long been famous as the "Silver Capital of the World" with over 1.2 billion ounces of silver having been mined since 1884.
Special Promotions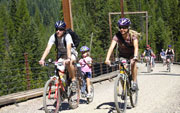 Hiawatha Discovery
1 Night in a deluxe queen room, double occupancy
Route of the Hiawatha trail and shuttle passes for two
Ride the magnificent Route of the Hiawatha - North America's best Rails to Trails, Tunnels & Trestles Experience!
Cruise down the 16 mile Old Milwaukee Road Rail line marveling at the majestic mountain- and valleyscapes while carving through 10 dark tunnels and over 7 sky high trestles.
Bask in clean fresh air, glorious views and high altitude recreation – all easily accessible off Interstate 90.
Return to the Wallace Inn to relax and to regale family and friends with your day's adventures in our soothing hot tub, indoor pool, saunas and comfy queen bedded rooms.
Priced right to make your visit to North Idaho all "downhill."
Weekends:
Special package rate $209.
Weekdays:
Special package rate $199.
Reserve space on the Wallace Inn shuttle to/from the Route of the Hiawatha 72 hours in advance of your ride.
To book please call 1-208-752-1252.
Upgrades and extra nights available at a discounted rate. Package rates not available for walk-ins. Rates may increase during festival or holiday periods.
Read More »
Wallace Inn News
Discovering new places that are off the beaten path is our jam. It's 90% of the reason why we do what we do! (10% is for the food, obvi!) As we road tripped around Northern Idaho, we found some real hidden gems – many of which are in and around the small mining town of Wallace! It's…
Read Full Story »
COMMUNITY Passage Into the Panhandle – Part 2 A Tale of Two Towns Gail Newbold | Photos by Kevin Kiernan Mar 15, 2019 Facebook22TwitterLinkedInSMSEmail Part 1 of this article, published in our January/February 2019 issue, focused on Priest Lake, the Roosevelt Grove of Ancient Cedars, Sandpoint,…
Read Full Story »