Testimonials
Letters from our Guests...
"

The purpose of my letter is to advise you of the wonderful four days and three nights we experienced at your hotel, Wallace and surrounding areas...The staff was courteous, accommodating and very knowledgeable. We found the hotel clean and well maintained inside and out.

"


Louise S.,

Yakima, WA
"

We have had the true pleasure of staying at the Wallace Inn at least five times over the past several years...My husband is a soldier and while we lived near Tacoma, WA, I would drive the children back east every time he deployed...The Inn provided comfort and warmth. Our room was always beautifully clean and safe, and the staff always so welcoming.

"


Christina B.,

Lehi, UT
"

I want to thank you for your outstanding services during our stay and more so, after we left. I forgot a personal item… I received said item 3 days later…People like you make everyone have faith in the goodness of people.

"


Gilda M.,

Portland, OR
"

Our stay in Wallace was very enjoyable, pleasant and relaxing. Just what we needed and anticipated. You have a wonderful facility and thank you for working with us to make the stay a highlight of our summer for 2010.

"


Craig and Diana C.,

Fort Collins, CO
"

Great way to stay in beautiful Wallace

"


LBilling,

Spokane, WA
"

Thank you very much for your help setting us up with our room...we really enjoyed our stay. All your staff was very courteous and you should be very proud of them. They were very friendly and always had smiles on their faces.

"


Laurie, Dave, & Hailey A.,

Lakeside, MT
Comments on Expedia...
"

Jewel of an Inn in Wallace, Idaho: The Inn was very comfortable and we were impressed with the value and quality of the Inn. The town of Wallace was fun and we would like to go back and spend more time there with friends.

"


Guest from Puyallup, WA
"

Nice room, comfortable beds, great location close to mining park for kids. Pool was just right temp and enjoyable. Hot tub was hot and clean, steam room and sauna were next to pool. Great bike path through the town. Neat little historic mining town, great overnight.

"


Guest from Bend, OR
Guest Survey Comments...
"

The desk clerk that checked us in was wonderful? WONDERFUL!!

"


Pamela S.,

Malo, WA
"

Housekeeping staff is friendly and efficient…our 3rd stay and we will be back!

"


Rose C.,

Spokane, WA
"

Everything was great!

"


Beth D.,

Beaverton, OR
"

We love it here and will come back.

"


Michael P.,

Bellingham, WA
"

Rick is one of the most energetic and dedicated managers that we have ever come across in 77 years. He is the best.

"


Carl and Marjorie B.,

Yakima, WA
"

We had a box of clothes sent here. The staff had it in our room and had a safe place for our bikes. A very bike-friendly hotel!!! Thank you.

"


Marty and Jim H.,

Portland, OR
"

A great place. Everyone is exceptionally friendly, helpful and wonderful to associate with.

"


Carol and Bob G.,

Bellevue, WA
"

Thank you so much for a clean, comfy room – after a long day of driving. You are so lucky to live in such a beautiful area!

"


Marie S.,

Milwaukee, WI
"

The moment we were greeted at the front desk, I knew this was going to be a good stay.

"


Verna S.,

Spokane, WA
"

This hotel, the Wallace Inn, is the nicest inn we have ever visited. We will return.

"


Jerry and Faith B.,

Salem, OR
"

From the moment we walked in, the lady at the front desk made us feel like we were company in someone's home.

"


Jim and Mary M.,

Scotts Bluff, NE
TripAdvisor Comments...
"

This hotel, situated in a beautiful location in Idaho, provides all the basics for a good leisurely stay as well as a great place for getting away… The conference rooms are useful for larger groups… The atmosphere of the hotel is comfortable and warm. The front desk service was of immediate help.

"


RGrablin,

Spokane, WA
"

The staff of this hotel was very friendly. Food in the restaurant was good. Wallace, Idaho is a cute, quiet little town that is a great place to go if you are looking for a weekend out of any of the nearby cities. Rooms are very clean and comfortable, and extra services like a workout room and swimming pool are easily accessible. If you are going to Wallace, stay at the Wallace Inn (:

"


jdale22,

Spokane, WA
"

Wallace Idaho makes for a wonderful, delightful, & laid back trip. Not only is the town cute & unique, but has its own personality & intriguing history. 

The Wallace Inn was the perfect place to stay for such a trip. The staff was friendly & made sure to accommodate our every need. I definitely suggest a weekend trip up to Wallace!

"


katylaine,

Spokane, WA
"

After attempting to plan logistics for this trip, we had given up hope… Upon "meeting" Wallace Inn hotel manager Rick Shaffer, (by phone,) our obstacles began to dissolve. This hotel, with its extraordinary manager and staff was the most welcoming and accommodating home base from which we were able to manage a 5 day rail-trail vacation. Conveniently located near the Trail of the Coeur d'Alenes, the Inn is very clean, comfortable and hospitality abounds. Rick provided an airport shuttle, complete with stops to replace essentials from our missing luggage. Additionally, he helped to find tools to repair bicycles as well as providing his own personal gear for our temporary use. The Wallace Inn also accommodated us with trail head shuttles as well as pick up and return of our bike rentals from Excelsor Bike Shop in Kellogg. Can't say enough about the hospitality of this establishment.

"


messimamm,

Midland, VA
"

Extremely clean and well maintained with a friendly and knowledgeable staff. The rooms were spacious and very comfortable. Would be happy to have my mom stay here.

"


KMack54,

Leesburg, FL
"

The Wallace Inn is the perfect small town getaway. It is an excellent hotel with a friendly and helpful staff. The restaurant served a delicious breakfast. The proximity of the downtown added to the flavor. We highly recommend it.

"


tomjens,

Leesburg, FL
"

Recently spent 3 nights and 4 days at your hotel. Everyone was so helpful and courteous. Rooms were clean and tidy. Special Kudos go to Rick, The Prime Minister of Wallace. Without him the visit would not have been so special.

"


PKRedd,

Yakima, WA
"

We just spent 3 nights at the Wallace Inn with a group from Washington. What really made our experience so very special was the staff, especially the director of operations, Rick. As always he gave 110%. Visibly Rick loves Wallace, his job and is a wonderful ambassador for the inn and city. His knowledge of local area history is a treasure for any history buff. Second on the list-is the pool/spa area-very clean and refreshing after a long day. Thank you, Wallace Inn, for a wonderful stay. 
We will see you again, very soon. Louise and Lee.

"


glasshoel,

Yakima, WA
"

The service was excellent… We stayed in a suite so we enjoyed all that it had to offer, especially the size. The Wallace Inn was located on I-90 in the mountains of the Idaho Panhandle. You can see the hotel from the Interstate. The entire town of Wallace is on the National Historic Register. It is great for walking , biking and is an amazing community. The food surpassed our expectations. Specials for breakfast and the evening meal.

"


ron1357,

Huntsville, AL
"

The two best features of this hotel are the very helpful and professional staff, (kudos to LeAnda), and the steam sauna. They have a jacuzzi and dry sauna as well, but steam is less common, so we really appreciated it. The hotel was easily accessible from the highway… We would stay there again.

"


mama5traveler,

McKinney, TX
"

The room was a good size with a very roomy bathroom. It had all the amenities and was very clean and fresh. It is a completely non-smoking hotel, which I like. There was a nice pool area, with jacuzzi and wet and dry saunas, I didn't use it, but there was a weight room that looked good. The staff was always helpful and cheerful.

"


MaggieMae71,

Newport, WA
"

You wouldn't expect to find such a nice hotel in a little town like Wallace, ID. Most people target bigger towns for their stopovers. Wallace is an interesting & historical mining town in the beautiful mountains of the Idaho panhandle. The Wallace Inn provides first class accommodations in well appointed rooms at a reasonable price. Amenities such as restaurant, indoor pool, sauna, workout room and banquet facilities only enhance your stay. The staff is always very friendly and accommodating.

"


Margaret2009,

Wenatchee, WA
"

The Inn is a real surprise in a small town on I-90 in Idaho. Wallace is an old mining town set in the mountains. The Wallace Inn is well maintained and easy to reach from the freeway. Rooms were large, clean, quiet and well appointed and the on site restaurant was convenient. Pool and hot tub were well done. All in all it was a great place to stay while doing some biking on the nearby mountain trails.

"


freelancesteve,

Bellevue, WA
"

This one can't be beat after a hard day of skiing. Hot tub, steam room, dry sauna, and pool, all very clean and attractive. Is on the edge of town, but still within a five minute or so walk from downtown Wallace and additional restaurants. Nice friendly staff and manager.

"


Bikerjeff,

BC, WA
Special Promotions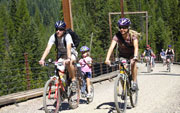 Hiawatha Discovery
1 Night in a deluxe queen room, double occupancy
Route of the Hiawatha trail and shuttle passes
Ride the magnificent Route of the Hiawatha - North America's best Rails to Trails, Tunnels & Trestles Experience!
Cruise down the 16 mile Old Milwaukee Road Rail line marveling at the majestic mountain- and valleyscapes while carving through 10 dark tunnels and over 7 sky high trestles.
Bask in clean fresh air, glorious views and high altitude recreation – all easily accessible off Interstate 90.
Return to the Wallace Inn to relax and to regale family and friends with your day's adventures in our soothing hot tub, indoor pool, saunas and comfy queen bedded rooms.
Priced right to make your visit to North Idaho all "downhill."
May 24 to August 26:
Special package rate $199.
August 26 to September 22:
Sunday-Thursday. Special package rate $162.
Friday-Saturday. Special package rate $184.
Reserve space on the Wallace Inn shuttle to/from the Route of the Hiawatha 72 hours in advance of your ride. Round trip $75/person. One way $45/person.
To book please call 1-208-752-1252.
Upgrades and extra nights available at a discounted rate. Package rates not available for walk-ins. Rates may increase during festival or holiday periods.
Read More »
Wallace Inn News
COMMUNITY Passage Into the Panhandle – Part 2 A Tale of Two Towns Gail Newbold | Photos by Kevin Kiernan Mar 15, 2019 Facebook22TwitterLinkedInSMSEmail Part 1 of this article, published in our January/February 2019 issue, focused on Priest Lake, the Roosevelt Grove of Ancient Cedars, Sandpoint,…
Read Full Story »
Visit Idaho Published on Mar 11, 2019 Episode 1: Take your adventure to new heights with a trip through northern Idaho. From the Center of the Universe to the crown jewel of rail to trail experiences and an adventure course that will have you zipping through the trees, there's no slowing down…
Read Full Story »