Reservations
Book Now
If you'd rather call directly, our representatives will be happy to assist you.
800-643-2386 (800-N IDA FUN)
"

The desk clerk that checked us in was wonderful? WONDERFUL!!

"


Pamela S.,

Malo, WA
More testimonials »
Historic Wallace, Idaho
Wallace, Idaho is home to a rich and colorful history which has earned the entire downtown of Wallace a listing on The National Register of Historic Places. In 1884, Colonel W. R. Wallace was drawn to the area's rich deposits of silver and gold. He purchased and developed 80 acres of land, which eventually became the site of the City of Wallace. By 1887, downtown businesses were booming and mines were flourishing in the surrounding mountains. Railroads brought in prospectors and miners, took out ore and put the Wild West town of Wallace on the map.
Fire-related tragedy struck the first time in 1890 when an out-of-control blaze burned down the majority of downtown's wooden buildings. But, the independent-minded townspeople persevered and rebuilt the business district with brick, stone and masonry structures, many of which still stand today. Fire once again hit Wallace two decades later, during the largest US forest fire in recorded history. The "Big Burn" swept through Wallace, taking most of the business district with it, and making a hero of "Big Ed" Pulaski who saved 40 fire fighters by guiding them into a mine tunnel south of town.
The town and surrounding region have long been famous as the "Silver Capital of the World" with over 1.2 billion ounces of silver having been produced since 1884. Active, hard rock silver mining in the area continues to this day.
Much of Historic Wallace has been preserved in its buildings, lore, and numerous museums. Today Wallace is a popular tourist destination. In 2004, our City was declared "Center of the Universe" by mayoral proclamation. The reasoning - if something can't be disproven, then it must be true. A manhole cover at the corner of Bank and Sixth Streets commemorates the exact Center of the Universe.
The Silver Valley and Wallace's Place in American History
The Silver Valley and Wallace have played pivotal roles in major chapters of American History over the last 125 years. This would be a remarkable achievement for a large city or a populous industrial state. However, it is nothing short of astounding that a narrow valley in a sparsely populated state, and its tiny flagship town, should have contributed so much to so many truly important American historical developments.
American Labor History:
The Mineowners, the Wobblies and the American Labor Movement
The early days of mining in the West helped build great fortunes for the mine owners – and long hours, grueling work conditions and punishing practices for the miners. The enormously rich veins of silver and other metals in the Coeur d'Alene Mining District created wealth and jobs. This also led to a feverish and growing labor movement and, at times, protracted battles between mine owners and labor unions. The Silver Valley became fertile ground for the I.W.W., the "Wobblies" of American Labor lore. Labor strife in the area attracted headlines around the globe, as the struggles of local miners became a national symbol of working class activism in the face of ascendant American Capitalism.
At a time of heightened tensions, an explosion at the Bunker Hill Mine in nearby Kellogg set off a stiff response by law enforcement. Governor Frank Steunenberg declared martial law and federal troops soon filled the town. Suspected perpetrators, who included many immigrant mineworkers, were rounded-up and placed in a makeshift "bullpen." Subsequent trials, convictions and incarceration stirred local fervor and national debate.
Union activity was later implicated again in the shocking assassination of then former Governor, Frank Steunenberg – as detailed in J. Anthony Lukas's big book, Big Trouble. This era of Labor and Capital counter-punches cemented the Silver Valley's place, and notoriety, in the early history of the American West.
American Environmental History:
"The Big Burn": The Great Fire of 1910 and the Establishment of the U.S. Forest Service and the Environmental Movement
Wallace and the Silver Valley rebuilt following the damage endured in the Great Fire of 1890. However, rebuilders could not have foreseen what was to come in 1910.
The largest fire in American history – ultimately spanning 3 million acres, an area comparable to the entire state of Connecticut – ripped through western Montana, the Panhandle of North Idaho, and eastern Washington in August, 1910. The havoc wreaked by the fire is recounted in Pulitzer Prize-winning author Timothy Egan's 2010 book, The Big Burn.
Egan also details his interpretation that this was "the fire that saved America." He theorizes that Teddy Roosevelt and Gifford Pinchot had ambitious plans for the U.S. Forest Service, but that the Forest Service was woefully under-manned in the field and politically weak in Washington, D.C. The Service might easily have been marginalized and relegated to bureaucratic irrelevancy had the Great Fire of 1910 not so vividly demonstrated the critical need for a forest management and firefighting agency. Thus, the basis for new American environmental and land management policies was established.
Visitors to Wallace can take a short, pleasant hike to the Pulaski Tunnel, where the legendary U.S. Forest Ranger, Ed Pulaski, bravely assembled his crew in his brilliant strategy to escape the fire's carnage.
American Historic Preservation:
Harry F. Magnuson and the Battle to Save the City of Wallace from the Federal Highway Administration and the Wrecking Ball
More recent is the trail-blazing role that Wallace and one of its leading citizens played in charting the course of the American Historic Preservation Movement.
In 1970, the City of Wallace was thrust into this role in a fight for its survival. The Federal Highway Administration and the Idaho Transportation Department planned to route Interstate 90 directly through the center of downtown Wallace. Blocks of Queen Anne buildings, including the iconic Northern Pacific Railroad Depot, were at risk of imminent destruction.
Historic preservation in the 1970's was a little-known concept and, indeed, wrecking crews and bulldozers had already razed part of downtown Wallace. Local businessman and community activist, Harry F. Magnuson, resolved to fight these plans in the courts, taking on the Federal government by turning one of its own instruments on itself.
Congress had recently passed the National Environmental Policy Act of 1970 which required filing environmental impact statements in advance of major projects. Harry Magnuson filed suit, and won an injunction against the Federal Highway Administration stopping bulldozers in their tracks.
A protracted legal battle ensued, with Magnuson tying up the FHA in the courts for 17 years. In 1979, he secured placement of the entire downtown of Wallace on the National Register of Historic Places. A compromise was finally struck and a new overhead freeway was designed to bypass Wallace. In 1985, the Depot was moved across the South Fork of the Coeur d'Alene River to its permanent home on 6th Street.
Coincidentally, Harry Magnuson went on to channel new efforts into constructing a first-class hotel in Wallace as a resource for the community, and as a lovely place for visitors to stay and absorb the abundant history and natural beauty of Wallace. This resulted in the Wallace Inn of today, proudly and continuously overseen by Mr. Magnuson's family.
Special Promotions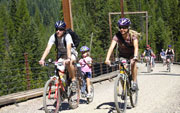 Hiawatha Discovery
1 Night in a deluxe queen room, double occupancy
Route of the Hiawatha trail and shuttle passes for two
Ride the magnificent Route of the Hiawatha - North America's best Rails to Trails, Tunnels & Trestles Experience!
Cruise down the 17 mile Old Milwaukee Road Rail line marveling at the majestic mountain- and valleyscapes while carving through 10 dark tunnels and over 7 sky high trestles.
Bask in clean fresh air, glorious views and high altitude recreation – all easily accessible off Interstate 90.
Return to the Wallace Inn to relax and to regale family and friends with your day's adventures in our soothing hot tub, indoor pool, saunas and comfy queen bedded rooms.
Priced right to make your visit to North Idaho all "downhill."
May 26 to June 28 and September 3 to 23:
Sunday-Thursday. Regular price $179. Special package rate $159.
Friday-Saturday. Regular price $198. Special package rate $179.
June 29 to September 2:
Regular price $219. Special package rate $199.
Reserve space on the Wallace Inn shuttle to/from the Route of the Hiawatha 72 hours in advance of your ride. Round trip $55/ticket.
To book please call 1-800-643-2386.
Upgrades and extra nights available at a discounted rate. Package rates not available for walk-ins. Rates may increase during festival or holiday periods.
Read More »
Wallace Inn News
Get an inside look at Idaho's Trail of the Coeur d'Alenes, a stunning 72-mile pathway that has spurred economic revitalization in America's silver heartland.
Read Full Story »
Culture & Food » Food & Drink In North Idaho's Silver Valley, food purveyors lured by opportunity and quality of life by Carrie Scozzaro March 29, 2018 Facebook Twitter Email Reddit Pinterest Wallace is worth a trip for both its food and scenic attractions. - WALLACE CHAMBER PHOTO Wallace…
Read Full Story »