Special Promotions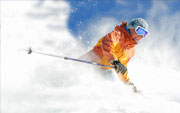 Powder Cocktail
The freshest, deepest powder!
1 Night queen room, double occupancy
2 Adult lift tickets to Lookout Pass Ski Resort
Want some no frills powder carving on white-washed slopes of deep snow?
The Powder Cocktail package is it. Experience the renowned Lookout Pass champagne powder with easy I-90 access and friendly lifties. After closing the slopes, hit the Wallace Inn's hot tub and indoor pool. Relax and rejuvenate.
Before December 23 - Special package rate $156.

Sunday-Thursday - Special package rate $163.

Friday-Saturday - Special package rate $190.

Holidays - Special package rate $212.
Upgrades to a king or double queen bedded room are $20.00 excluding costs for extra persons/ski tickets needed per room.
Read More »
Wallace Inn News
Nowadays people explore Idaho's Panhandle via bike, boat and backpack, ever on the lookout for that hidden treasure of lake, trail or experience. But, in the not-too-distant past, scores prospected the Panhandle for riches buried beneath the earth. Here they discovered such immense treasure the…
Read Full Story »
They still mine silver in the mountains around Wallace, Idaho—but equally rich treasures are above ground too. Wallace is a gateway to trails for every skill level of hiker and biker, while its small-town charm and quirky "live and let live" attitude is a pleasant contrast to bland…
Read Full Story »
Per Order of the Wallace City Council, face coverings are required in all indoor public areas of the Wallace Inn. The health and safety of our guests and staff is our top priority.