"

You have a wonderful facility and thank you for working with us to make the stay a highlight of our summer for 2010.

"


Craig and Diana C.,

Fort Collins, CO
More testimonials »
Activities
Skiing, Snowboarding, and Snowshoeing
Winter sports adventure abound in the majestic mountains surrounding Wallace, Idaho. Uniquely positioned between two first-class ski resorts, Lookout Pass to the east and Silver Mountain to the west, the Wallace Inn is an ideal home base. An extensive network of pristine trails provide for incomparable cross-country skiing and snowshoeing.
The Best Snow in Idaho! Lookout Pass has a reputation for legendary powder, the earliest openings, and the longest seasons in the region. Located 10 miles east of Wallace on the Idaho/Montana border, Lookout is the "Favorite Family Ski Area" with easy access, a relaxed atmosphere, and great value. Home to a nationally recognized Free Ski School Program for children, Lookout attracts boarders and skiers of all skill ranges and ages.
Open Thursday – Monday
(208) 744-1301
Ride the world's longest single-stage gondola 3,000 feet up to Silver Mountain. Multiple chairs spread across the Resort which spans two mountains, 73 trails and 1,600 acres of terrain and boasts more than 300 inches of snow annually. Silver Mountain is a first rate ski resort that still retains its local charm. Located 10 miles west of the Wallace Inn at Exit 49 on Interstate-90.
Snowshoeing
The Idaho Panhandle National Forest and the local network of over 1000 miles of trails, paths, and roads offer a range of snowshoeing choices from wide-open bowls to steep, single-track hill paths. Please consult the Wallace Inn Guest Services Representatives for more information on local snowshoeing opportunities.
Special Promotions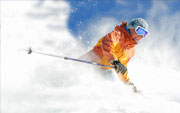 Powder Cocktail
The freshest, deepest powder!
1 Night queen room, double occupancy
2 Adult lift tickets to Lookout Pass Ski Resort
Want some no frills powder carving on white-washed slopes of deep snow?
The Powder Cocktail package is it. Experience the renowned Lookout Pass champagne powder with easy I-90 access and friendly lifties. After closing the slopes, hit the Wallace Inn's hot tub and indoor pool. Relax and rejuvenate.
Before December 23 - Special package rate $156.

Sunday-Thursday - Special package rate $163.

Friday-Saturday - Special package rate $190.

Holidays - Special package rate $212.
Upgrades to a king or double queen bedded room are $20.00 excluding costs for extra persons/ski tickets needed per room.
Read More »
Wallace Inn News
Nowadays people explore Idaho's Panhandle via bike, boat and backpack, ever on the lookout for that hidden treasure of lake, trail or experience. But, in the not-too-distant past, scores prospected the Panhandle for riches buried beneath the earth. Here they discovered such immense treasure the…
Read Full Story »
They still mine silver in the mountains around Wallace, Idaho—but equally rich treasures are above ground too. Wallace is a gateway to trails for every skill level of hiker and biker, while its small-town charm and quirky "live and let live" attitude is a pleasant contrast to bland…
Read Full Story »