"

From the moment we walked in, the lady at the front desk made us feel like we were company in someone's home.

"


Jim and Mary M.,

Scotts Bluff, NE
More testimonials »
Activities
Off-Road Vehicles – Snowmobiles and ATVs
Wallace is surrounded by huge swaths of U.S Forest Service and Bureau of Land Management property, providing over 1,000 miles of connected, all season trails, from wide open roads, to meandering paths, to single track blasts.
The City is Wallace is off-road vehicle friendly. Downtown streets and the county roads leading out of town permit ATV and snowmobile riding. Once you arrive, you can park your trailer at the Wallace Inn and ride from there. Door-to-door motorized recreation is the rule of the road in Wallace.
From Wallace, you can climb into the Bitteroot Mountains, and ride to the historic and scenic towns of Pritchard, Avery, Murray, Mullan, Coeur d'Alene, Pinehurst, Enaville, Clark Fork, Noxon, Sandpoint and more. With the motorized vehicle of your choice, the wildlands surrounding the Silver Valley become your playground.
Maps, guides and helpful advice are available at the Wallace Inn. We can suggest our favorite rides, trails, and haunts. The United States Forest Service office provides maps and trail updates.
Special Promotions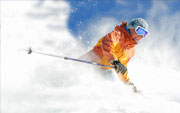 Powder Cocktail
The freshest, deepest powder!
1 Night queen room, double occupancy
2 Adult lift tickets to Lookout Pass Ski Resort
Want some no frills powder carving on white-washed slopes of deep snow?
The Powder Cocktail package is it. Experience the renowned Lookout Pass champagne powder with easy I-90 access and friendly lifties. After closing the slopes, hit the Wallace Inn's hot tub and indoor pool. Relax and rejuvenate.
Before December 23 - Special package rate $156.

Sunday-Thursday - Special package rate $163.

Friday-Saturday - Special package rate $190.

Holidays - Special package rate $212.
Upgrades to a king or double queen bedded room are $20.00 excluding costs for extra persons/ski tickets needed per room.
Read More »
Wallace Inn News
Nowadays people explore Idaho's Panhandle via bike, boat and backpack, ever on the lookout for that hidden treasure of lake, trail or experience. But, in the not-too-distant past, scores prospected the Panhandle for riches buried beneath the earth. Here they discovered such immense treasure the…
Read Full Story »
They still mine silver in the mountains around Wallace, Idaho—but equally rich treasures are above ground too. Wallace is a gateway to trails for every skill level of hiker and biker, while its small-town charm and quirky "live and let live" attitude is a pleasant contrast to bland…
Read Full Story »