"

The Wallace Inn is the perfect place for a relaxing weekend away from the crowds.

"


jdale22,

Spokane, WA
More testimonials »
Activities
Off-Road Vehicles – Snowmobiles and ATVs
Wallace is surrounded by huge swaths of U.S Forest Service and Bureau of Land Management property, providing over 1,000 miles of connected, all season trails, from wide open roads, to meandering paths, to single track blasts.
The City is Wallace is off-road vehicle friendly. Downtown streets and the county roads leading out of town permit ATV and snowmobile riding. Once you arrive, you can park your trailer at the Wallace Inn and ride from there. Door-to-door motorized recreation is the rule of the road in Wallace.
From Wallace, you can climb into the Bitteroot Mountains, and ride to the historic and scenic towns of Pritchard, Avery, Murray, Mullan, Coeur d'Alene, Pinehurst, Enaville, Clark Fork, Noxon, Sandpoint and more. With the motorized vehicle of your choice, the wildlands surrounding the Silver Valley become your playground.
Maps, guides and helpful advice are available at the Wallace Inn. We can suggest our favorite rides, trails, and haunts. The United States Forest Service office provides maps and trail updates.
Special Promotions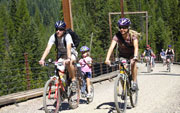 Hiawatha Discovery
1 Night in a deluxe queen room, double occupancy
Route of the Hiawatha trail and shuttle passes
Ride the magnificent Route of the Hiawatha - North America's best Rails to Trails, Tunnels & Trestles Experience!
Cruise down the 16 mile Old Milwaukee Road Rail line marveling at the majestic mountain- and valleyscapes while carving through 10 dark tunnels and over 7 sky high trestles.
Bask in clean fresh air, glorious views and high altitude recreation – all easily accessible off Interstate 90.
Return to the Wallace Inn to relax and to regale family and friends with your day's adventures in our soothing hot tub, indoor pool, saunas and comfy queen bedded rooms.
Priced right to make your visit to North Idaho all "downhill."
May 24 to August 26:
Special package rate $199.
August 26 to September 22:
Sunday-Thursday. Special package rate $162.
Friday-Saturday. Special package rate $184.
Reserve space on the Wallace Inn shuttle to/from the Route of the Hiawatha 72 hours in advance of your ride. Round trip $75/person. One way $45/person.
To book please call 1-208-752-1252.
Upgrades and extra nights available at a discounted rate. Package rates not available for walk-ins. Rates may increase during festival or holiday periods.
Read More »
Wallace Inn News
COMMUNITY Passage Into the Panhandle – Part 2 A Tale of Two Towns Gail Newbold | Photos by Kevin Kiernan Mar 15, 2019 Facebook22TwitterLinkedInSMSEmail Part 1 of this article, published in our January/February 2019 issue, focused on Priest Lake, the Roosevelt Grove of Ancient Cedars, Sandpoint,…
Read Full Story »
Visit Idaho Published on Mar 11, 2019 Episode 1: Take your adventure to new heights with a trip through northern Idaho. From the Center of the Universe to the crown jewel of rail to trail experiences and an adventure course that will have you zipping through the trees, there's no slowing down…
Read Full Story »