"

The staff was courteous, accommodating and very knowledgeable. We found the hotel clean and well maintained inside and out.

"


Louise S.,

Yakima, WA
More testimonials »
Activities
Mine Tours
Seize a rare and exciting opportunity to explore historic mining tunnels and operations, world famous for producing silver, gold, lead, and zinc. These safe, informative adventures are a must-see for those hoping to learn more about Wallace's mining past.
Wallace and the surrounding area are recognized as the richest silver mining district on earth having produced 1.2 billion ounces since 1884. Catch the trolley in downtown Wallace and dig a little deeper into these rich mountains and into their storied past.
On the Sierra Silver Mine Tour, an experienced miner guides you through the main drift of an actual underground silver mine. Exhibits and demonstrations of mining equipment present historic and modern techniques used to mine silver, gold, lead, zinc, and copper.
Your guide will share his experiences as a hard-rock miner in the Coeur d'Alene District. The stories, demonstrations, and exhibits included in the Sierra Silver Mine Tour are entertaining and educational for visitors of all ages and interests.
Glimpse an authentic 1880s underground gold mine. Hidden and lost for over one hundred years, the Crystal Gold Mine was rediscovered in 1996. It was named for the beautiful smithsonite crystals formed on the walls over the last century. Gold and wire silver, still attached to the quartz vein, are clearly marked. You can even try your hand at panning for gold.
Mining Heritage Exhibit
Explore our mining heritage at the Wallace Chamber of Commerce Visitors Center, a short walk from the Wallace Inn, at Exit 61 off I-90. Displays show a blasting tunnel, a mule hoist, a shoring tunnel, ore samples and much more.
Special Promotions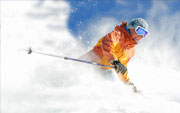 Powder Cocktail
The freshest, deepest powder!
1 Night queen room, double occupancy
2 Adult lift tickets to Lookout Pass Ski Resort
Want some no frills powder carving on white-washed slopes of deep snow?
The Powder Cocktail package is it. Experience the renowned Lookout Pass champagne powder with easy I-90 access and friendly lifties. After closing the slopes, hit the Wallace Inn's hot tub and indoor pool. Relax and rejuvenate.
Before December 23 - Special package rate $156.

Sunday-Thursday - Special package rate $163.

Friday-Saturday - Special package rate $190.

Holidays - Special package rate $212.
Upgrades to a king or double queen bedded room are $20.00 excluding costs for extra persons/ski tickets needed per room.
Read More »
Wallace Inn News
Nowadays people explore Idaho's Panhandle via bike, boat and backpack, ever on the lookout for that hidden treasure of lake, trail or experience. But, in the not-too-distant past, scores prospected the Panhandle for riches buried beneath the earth. Here they discovered such immense treasure the…
Read Full Story »
They still mine silver in the mountains around Wallace, Idaho—but equally rich treasures are above ground too. Wallace is a gateway to trails for every skill level of hiker and biker, while its small-town charm and quirky "live and let live" attitude is a pleasant contrast to bland…
Read Full Story »