Reservations
Book Now
If you'd rather call directly, our representatives will be happy to assist you.
800-643-2386 (800-N IDA FUN)
"

Housekeeping staff is friendly and efficient…our 3rd stay and we will be back!

"


Rose C.,

Spokane, WA
More testimonials »
Activities
Hiking
The mountains, lakes and rivers of North Idaho offer hikers adventure and beauty whether on day-hikes or extended backpacking trips. Listed below are some favorite trails from among the dozens that honeycomb the Idaho Panhandle National Forest. Click on the links for more information including detailed maps, elevation profiles, difficulty levels, and directions to trailheads.
Close to Wallace
The Pulaski Tunnel Trail offers both the beauty of a cool walk in the forest and an adventure into the past. The two-mile course brings hikers to a spot across Placer Creek from the historic Pulaski Tunnel, the abandoned mine where "Big Ed" Pulaski saved all but five of his 45-man firefighting crew in the Great Fire of 1910. The trail has numerous interpretive signs. Both the trail and the mine are listed on the National Register of Historic Places. Within the firefighting community, Pulaski is also remembered for refining the two bladed tool that bears his name. The Pulaski Tunnel Trail is a beautiful hike and a national shrine.
The St. Joe Divide trail follows the St. Joe-Coeur d'Alene Divide for 22 miles along the high ridge that separates the Coeur d'Alene River and St. Joe River watersheds. Some of the trail has been bladed for four wheel drive vehicles. This trail meanders through a mature forest of lodgepole pine with a myriad of other pines and firs. Colorful wildflowers and signs of wildlife abound. The trail intersects with six access trails on its way to Kellogg Peak. Excellent for horse and trail bike travel.
Cranky Gulch trail begins about 2.2 miles south of Wallace as a primitive one mile road along Cranky Gulch Creek to an abandoned diamond drilling operation. The 18 inch trail begins there and continues along the creek through part of the 1910 Burn. Several gray snags tower above the lush green forest canopy as remaining vestiges of the famous fire. The trail climbs through two switchbacks and ends with a panoramic view of Burke, Idaho and Tiger, Good, Sunset and Pulaski Peaks. Huckleberries can be plentiful.
The Stevens Peak-Alpine Lakes area is known for magnificent scenery. Stevens Peak, at 6838 feet, towers above nearby mountains. Lower and Upper Stevens Lakes provide good fishing and are stocked periodically by the State of Idaho with Eastern Brook and Rainbow. The trail contains steep ascents, towering larch, hemlock and Douglas fir, majestic rock formations, flat, brushy areas and cascading waterfalls. Signs of big game are numerous. Excellent for camping, swimming, hiking, berry-picking and photography.
Upper Glidden Lake trail, easy and scenic, starts 12.5 miles north of Wallace and travels to a high alpine lake. The trail begins in an open stand of grand fir, sub-alpine fir and western hemlock with a bear grass and huckleberry understory. The trail follows the contour from Cooper Pass and climbs to the northeast edge of Upper Glidden Lake. The lake area offers camping, fishing, berry-picking and photography. Cross-country skiing and snowshoe winter camping are also possible.
Day Trips
Hike serenely through an old cedar grove where giant trees date back 600 years. These magnificent trees were thankfully spared from the "Big Blowup." The trail winds through the grove, crossing the West Fork of Eagle Creek several times with rustic, wooden footbridges.
The remnants of an old miner's cabin alongside this trail hint at days gone by. Once the trail reaches the ridge, it opens onto a scenic alpine meadow, filled in summer with an array of colorful wildflowers including lupine, heartleaf, arnica, and Indian paint-brushes. You can also view the panorama of the Bitterroot Range with the Cabinet Mountains to the north. The trail ends at Granite Peak, elevation 6,815 feet.
Revett Lake Trail provides a scenic, easy hike through some of the most remote country in the area. A split log bridge crosses Cascade Creek. Camp and fish at the lake.
Rails-to-Trails Conservancy
Trail of the Month: October 2010
Idaho's Trail of the Coeur d'Alenes and Route of the Hiawatha
Additional Hikes
Special Promotions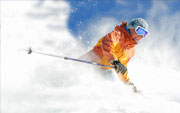 Powder Cocktail
The freshest, deepest powder!
1 Night queen room, double occupancy
2 Adult lift tickets to Lookout Pass Ski Resort
Want some no frills powder carving on white-washed slopes of deep snow?
The Powder Cocktail package is it. Experience the renowned Lookout Pass champagne powder with easy I-90 access and friendly lifties. After closing the slopes, hit the Wallace Inn's hot tub and indoor pool. Relax and rejuvenate.
Sunday-Thursday. Regular price $184. Special package rate $154.

Friday/Saturday/Holidays. Regular price $222. Special package rate $192.
Upgrades to a king or double queen bedded room are $20.00 excluding costs for extra persons/ski tickets needed per room.
Read More »
Wallace Inn News
At Christmastime, This Idaho Town Has The Most Enchanting Main Street In The Country There's something undeniably magical about spending the holiday season in Idaho. It's during this time of year that many of our towns undergo drastic transformations to showcase their Christmas spirit. Not…
Read Full Story »
I'm going to admit right now that I'd never heard of the Route of the Hiawatha before planning a trip to north Idaho. So if you've never heard about it either, don't feel bad. But I suspect that if you're much of a cyclist, you HAVE heard about this "rails to trails"…
Read Full Story »