"

Our room was always beautifully clean and safe, and the staff always so welcoming.

"


Christina B.,

Lehi, UT
More testimonials »
Activities
Fishing
Northern Idaho is famous for its secluded mountain lakes, clear blue streams, and excellent fishing holes. Bring your gear along for a trail-hike into the wilderness, and fish the cool waters of a mountain lake or stream. River anglers can fish the waters of the wild and scenic North Fork of the Coeur d'Alene and the St. Joe. Catch wily cutthroat and rainbow trout, kokanee, white and other game fish. With the abundance of great local fishing, you can find your own paradise, whether you prefer a dry fly or a tried-and-true lure.
Here are some fishing resources to help you plan your excursion:
Special Promotions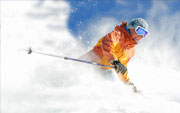 Powder Cocktail
The freshest, deepest powder!
1 Night queen room, double occupancy
2 Adult lift tickets to Lookout Pass Ski Resort
Want some no frills powder carving on white-washed slopes of deep snow?
The Powder Cocktail package is it. Experience the renowned Lookout Pass champagne powder with easy I-90 access and friendly lifties. After closing the slopes, hit the Wallace Inn's hot tub and indoor pool. Relax and rejuvenate.
Before December 23 - Special package rate $156.

Sunday-Thursday - Special package rate $163.

Friday-Saturday - Special package rate $190.

Holidays - Special package rate $212.
Upgrades to a king or double queen bedded room are $20.00 excluding costs for extra persons/ski tickets needed per room.
Read More »
Wallace Inn News
Nowadays people explore Idaho's Panhandle via bike, boat and backpack, ever on the lookout for that hidden treasure of lake, trail or experience. But, in the not-too-distant past, scores prospected the Panhandle for riches buried beneath the earth. Here they discovered such immense treasure the…
Read Full Story »
They still mine silver in the mountains around Wallace, Idaho—but equally rich treasures are above ground too. Wallace is a gateway to trails for every skill level of hiker and biker, while its small-town charm and quirky "live and let live" attitude is a pleasant contrast to bland…
Read Full Story »