"

A great place. Everyone is exceptionally friendly, helpful and wonderful to associate with.

"


Carol and Bob G.,

Bellevue, WA
More testimonials »
Activities
Cycling in The Silver Valley
Cycling enthusiasts flock to the Silver Valley and North Idaho to ride some of the most scenic and beautiful trails in America.
One of the most breathtaking, scenic stretches of railroad in the country, the Route of the Hiawatha is the "crown jewel" of rail-to-trail mountain bicycle trails. Winding through 10 tunnels and 7 mountain high trestles, this 15-mile route crosses the rugged Bitterroot Mountains between Idaho and Montana. The Route of the Hiawatha is best known for the long, dark Taft or St. Paul Pass Tunnel which burrows for 1.66 miles under the Idaho/Montana border. Dating from 1906, construction of the old Milwaukee Road railroad route was a story of hardship, calamity and triumph.
The ride is easy, safe and downhill. Trail passes and bicycle rentals are available at the Lookout Pass Resort at Exit 0 off I-90 on the Idaho/Montana border. The trailhead is located 3 miles from the Taft exit at milepost 5 on I-90 in Montana. For your return trip, shuttle service is available.
The magnificent 72-mileTrail of the Coeur d'Alenes traverses almost the entire breadth of North Idaho – through the mountainous Silver Valley, into the chain lakes region, along the shore of Lake Coeur d'Alene, over the Chatcolet Bridge and to the Palouse prairie. Catch glimpses of water fowl, deer, elk, moose, otters, osprey, bald eagles and abundant flora. The Trail of the Coeur d'Alenes is the longest, continuous, non-motorized, paved trail in the nation. Rest stops are well-placed, riding is easy and quaint communities provide easy access to food and refreshments.
The Idaho Panhandle National Forest and the local network of over 1000 miles of trails, paths, and roads offer adventure and fun for bike riders of all abilities. Choose from extra wide U.S. Forest Service Roads to single-track scrambles, and everything in-between. Favorite trails are the Nor-Pac, Cranky Gulch, Two Mile, Golconda, and Upper Glidden Lake at Cooper Pass. Please contact the Guest Services Representatives at the Wallace Inn for more information on local biking opportunities.
Special Promotions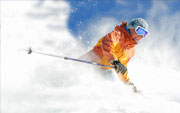 Powder Cocktail
The freshest, deepest powder!
1 Night queen room, double occupancy
2 Adult lift tickets to Lookout Pass Ski Resort
Want some no frills powder carving on white-washed slopes of deep snow?
The Powder Cocktail package is it. Experience the renowned Lookout Pass champagne powder with easy I-90 access and friendly lifties. After closing the slopes, hit the Wallace Inn's hot tub and indoor pool. Relax and rejuvenate.
Before December 23 - Special package rate $156.

Sunday-Thursday - Special package rate $163.

Friday-Saturday - Special package rate $190.

Holidays - Special package rate $212.
Upgrades to a king or double queen bedded room are $20.00 excluding costs for extra persons/ski tickets needed per room.
Read More »
Wallace Inn News
Nowadays people explore Idaho's Panhandle via bike, boat and backpack, ever on the lookout for that hidden treasure of lake, trail or experience. But, in the not-too-distant past, scores prospected the Panhandle for riches buried beneath the earth. Here they discovered such immense treasure the…
Read Full Story »
They still mine silver in the mountains around Wallace, Idaho—but equally rich treasures are above ground too. Wallace is a gateway to trails for every skill level of hiker and biker, while its small-town charm and quirky "live and let live" attitude is a pleasant contrast to bland…
Read Full Story »