Special Promotions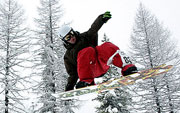 Freedom Ski - Weekday
Want light, fresh snow? You have the freedom to ski whenever you want.
You want the most economical ski pac in the land? Here's your gift.
Ski Monday, Wednesday (when open), Thursday, Friday. Stay Sunday, Monday, Wednesday, Thursday. 1 Night deluxe room, double occupancy
2 Adult lift tickets to Lookout Pass Ski Resort
Package rate of $114.00. Upgrades and extra nights available at a discounted rate. Holiday periods not included.
Read More »
Wallace Inn News
There are "artsy" small towns. "Outdoorsy" ones. "Swank" ones. "Cool" ones. But this list is different. It's about "real," "authentic" American small towns… where nature is beautiful, shops are unique, and smiles are genuine. And some of them may surprise you… No. 10 - WOODSTOCK, NEW YORK - Woodstock…
Read Full Story »
In the northern portion of the state of Idaho, just below Alberta and British Columbia, lies the tiny town of Wallace, Idaho. Popular for its historic charm, mountain access and helpful locals, it makes for a charming weekend getaway. If you're planning making the journey, there are a few items…
Read Full Story »